Equipment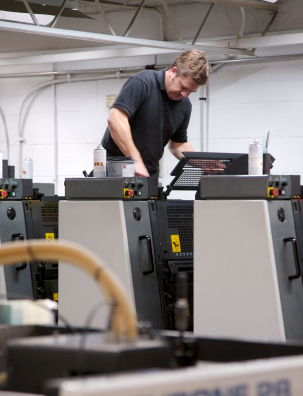 As a full-service provider of printed communications solutions, Graphic Design, Inc. has the right equipment to keep up with the changing marketplace and the day-to-day demand. Throughout the operation, we've invested in state-of-the-art technology and production equipment to meet those demands. Our equipment allows us to provide our clients with high-quality products in a timely manner.
So, whether we're designing a brochure, running a job on press or digitally, or tabbing and mailing the project, you can be assured we're using the best tools to get the job done right - and on time.
Here is an overview of the equipment used in our operation. To receive a detailed Equipment List, please click Contact Us to use the request form.


Design and Desktop Publishing
Our designers and desktop publishers use the latest Mac and PC workstations loaded with the applications necessary to meet the needs of a wide variety of customers.
Electronic Prepress Production
Recent investments in workflow software and CTP technology open the door to even greater production efficiencies.
Print Production
In addition to our traditional sheetfed offset presses ranging from one to five color. Graphic Design's digital print engine can produce personalized marketing and collateral materials to any targeted audience.
Wide Format Printing
Since digital is not limited to small format, the addition of the HP Scitex 950FB UV printer allows Graphic Design to offer larger format rigid (up to 96"x80") or flexible materials (96"x∞) roll-to-roll that handle all-weather conditions with its UV-curable, 12-head ink system.
Machine Bindery and Finishing
We offer full service bindery and finishing including cutting, folding, collating, drilling, and shrinkwrapping. Plus we provide a wide variety of hand finished services such as kitting, stuffing, and assembly of multi-part projects.
Mailing Services
Recent addition of addressing and mailing equipment completes the total product and services offering from Graphic Design, Inc. Now, customers can rely on one-stop fulfillment of every project.