Featured Products
Claim space for your brand in every recipient's office or home. With branded gifts and giveaway items, a simple mug or hat can make a big, lasting impression.

Holiday Cards

There are several things that make the holidays special. We place our holiday cards near the top. Send your sentiments this year with stunning holiday cards that are certain to inspire.

Wedding Packages

The big day calls for a big statement. And with years of experience, we can deliver that personal, meaningful style you want.
We Make Great Impressions!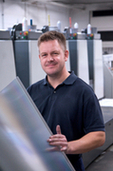 For over 50 years, Graphic Design, Inc. has been making GREAT IMPRESSIONS for customers across the country. Our goal is to help make each customer look good - through creative design, first-rate digital and offset printing, and on-time mailing and distribution services.
We specialize in helping you communicate your message, brand, and product or service. Our talented and dedicated employees treat each customer - and every project - with the utmost care and attention-to-detail.
It's the best way for us to look good while we make you look good.